My wife (Nandini) keeps coming up with ideas for creating learning environments for Advay. She sources her material from direct observation of Advay, coupled with study of books and blogs about child education. She recently was playing this game with Advay and it was very interesting to watch.
She would write a number on the left and a number on the right and ask Advay to fill the number in-between. I watched with awe, the joy with which Advay played the game and also got his answers correct.

Pretty soon, he got a hang of the game. So he now wanted to turn tables and create puzzles for Nandini.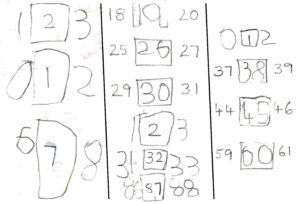 We were surprised that he asked Nandini to fill up between 0 and 2 !! While he learned about 1, 2, 3, 4 … from his Montessori school, he has understood about 0 from interacting with us.
Nandini later asked him to fill the box with a letter to complete a specific word. He enjoyed that too…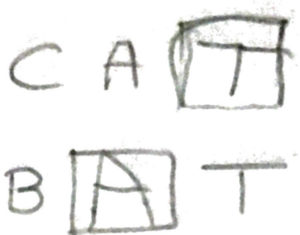 He then challenged her with puzzles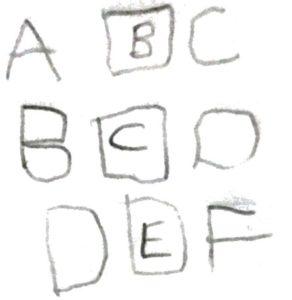 I love that he recognises B as between A & C, just the same way as T comes at the end of CAT. It is really interesting to notice how he is grasping things.
He enjoys playing puzzles, the challenging and the challenged parts.